Everco Advance Industries Sdn Bhd
37, Jalan Bakawali 41,
Taman Johor Jaya,
81100 Johor Bahru,
Johor, Malaysia.

+607-2889366

+607-2889266

Reformed Rubber Elevator Belt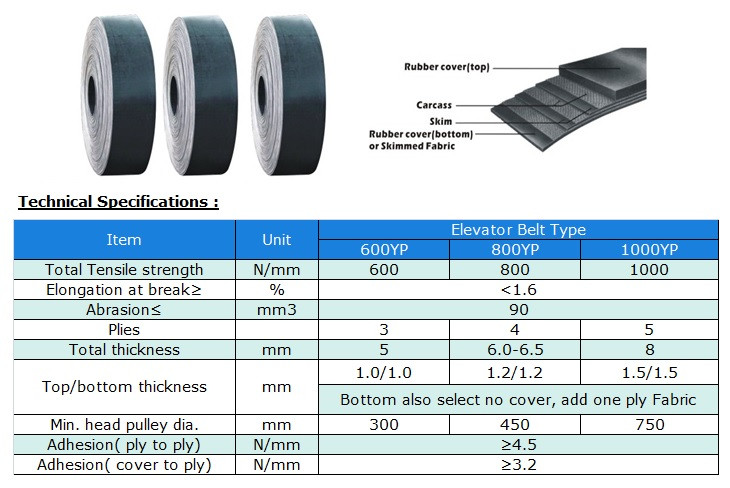 Key Features and Benefits:
• Low stretch, High tensile strength and bolt holding.
• Good abrasion resistance,soft and flexible in operation, long life span
• Oil and fat resistance, static-conducting, flame-resistance type for selection.
Features
• Additional wear resistant fabric is added onto the bottom rubber which is the driven side of the belt to increase belt life.
• Well suited to grain handling industries.
Technical Specifications :
Item
Unit
Elevator Belt Type
600YP
800YP
1000YP
Total Tensile strength
N/mm
600
800
1000
Elongation at break≥
%
<1.6
Abrasion≤
mm3
90
Plies
3
4
5
Total thickness
mm
5
6.0-6.5
8
Top/bottom thickness
mm
1.0/1.0
1.2/1.2
1.5/1.5
Bottom also select no cover, add one ply Fabric
Min. head pulley dia.
mm
300
450
750
Adhesion( ply to ply)
N/mm
≥4.5
Adhesion( cover to ply)
N/mm
≥3.2